Never assume you know where to layout the circumference of an outfield fence.  American Fence Company has installed thousands of baseball and softball fields.  We have come to understand that there is no constant in the overall layout.
From diagram 1.04, it illustrates the circumference is taken from the radius located at the pitcher's mound.  From diagram 668, the circumference is taken from radius located at home plate.  From the Pony field diagram, the circumference is taken from a radius located somewhere behind second plate.  The only sure thing is that the radius is located along a tangent that runs from home plate through second base.  From personal experience, I have seen the radius located numerous locations along this tangent not specific to home base, pitcher's mound or second base.  Each field is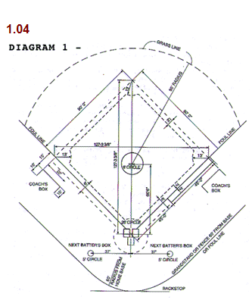 designed in consideration of the age group and experience level that the field was designed to accommodate.  The radius should be staked by the engineer or architect who designed the field.
Beyond the foul poles there is a stretch of fence that connects to the side line fences.  This fence may be either a straight line, tangent, to the circumference of the outfield fence or it may be a continuation of the circumference of the outfield fence that connects to the side line fences.  Don't assume there is a standard as every field will vary.  Again, the designer of the field should advise or review the approved contract drawings.
Foul poles require absolute precision in placing.  Don't simply eye-ball the pole off of third base to home plate.  If this pole is even an inch out of alignment, it may have to be relocated to assure no unnecessary foul balls.  Again, it should be located by an architect or engineer. 
Bottom line, baseball is truly a game of inches and feet measured more often than not by the location of the fence. Be diligent in your installation.