Fencing is not only a tool to ensure privacy and security, but also adds to the appeal and the personality of your home or business. It's also an aspect of landscaping, which grooms the overall image of your property.
Prefabricated ornamental iron is an elegant and aesthetically-appealing approach to fencing. This style of fencing is made of metal and is designed and welded with beautiful shapes and adornments, which draws in many due to its beauty, durability and security.
Ornamental iron fences can vary from 8 feet tall to even 4 feet or less. They typically are built with vertical posts and can include horizontal bars depending on the design.
Flat Top Three Rail Fence Panels
Flat Top Ornamental Iron fence designs are rising in popularity in the fencing market due to their strong, clean lines and its safe, spear-free top rail.
Coming in 4-foot, 5-foot and 6-foot sizes, our Flat Top Ornamental Three Rail Fence Panels are 8 feet in length and utilize three rails for extra support. These panels are spear-free, making them child and pet friendly. These panels' powder coating gives them durable, long lasting color that resists fading, chipping and scratching.
Benefits of Ornamental Iron
Ornamental iron is a time-honored fencing material with many admirable benefits
Works well on most property types
Decorative
Durable against all weather types
Increases the value of your property
Strong construction
Corrosion and rust resistant
Keeps pets and small children contained
Low maintenance
Even just by implication, houses with ornamental iron fencing leave the impression on potential burglars that they having higher security systems in place, further deterring robberies.
Built to Last
Prefabricated ornamental iron fences are strong, durable and are difficult to break through or tear down. They are also treated to protect them from corrosion and rust damage. Ornamental iron fences last for years to come.
Unlike some other fencing, ornamental iron doesn't need to be replaced every few years. Their longer utility life makes the higher price of iron is actually an investment in the future.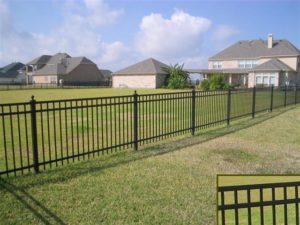 For a great selection of premium fencing supplies, visit America's Fence Store today.