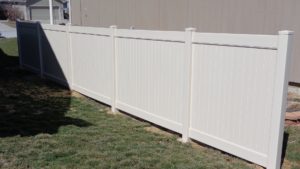 A 6' Vinyl Privacy Fence will give you the quiet, worry-free backyard you've always dreamed of. While keeping out curious gazes, these solid fences also cut down on noise pollution and keep unwanted guests and animals out, while keeping your pets and children in.
With many different designs to choose from, vinyl privacy fences are very aesthetically pleasing and give you the variety you need to make your yard your own. These appealing fences will also increase the value of your house and clearly define your property lines.
Vinyl: The Super Material
Privacy fences are a great way to make your own space in your backyard relatively unaffected by the areas around your home, and when they're made of vinyl they bring the bonus of extra durability and strength.
Vinyl is a strong, durable material with additional flexibility that prevents it from breaking in strong weather conditions. This material does very well in extreme weather and it even holds up well against sea salt exposure.
Unlike wood and metal fencing, vinyl is convenient because it doesn't need any priming or galvanization. You don't have to worry about vinyl rotting or having any insect problems. Once you install vinyl, you can sit back and relax as the most maintenance it generally needs is some soap and water if it gets dirty.
Additional benefits of vinyl fencing include:
Variety of colors; no repainting necessary
Easy installation most people can install themselves
Non-toxic
Lasts longer than wood
Solid panels offer complete privacy
Animals can't chew through or hurt themselves on vinyl
Vinyl that mimics the appearance of wood is available
Strength and Privacy
A 6' Vinyl Privacy Fence will not only protect your yard from wandering eyes, but it will also keep out intruders and wild animals while acting as a windbreaker and providing shade. Vinyl privacy fences are ideal for individuals who keep to themselves. Gardeners and pool owners could also benefit from the more relaxed, concealed environment these privacy fences can provide.
Vinyl fences can endure conditions other fences cannot, and will last you for a very long time and will require very little maintenance or upkeep, saving you money in the future. If you're interested in a vinyl privacy fence or have any other fencing needs, visit America's Fence Store today.