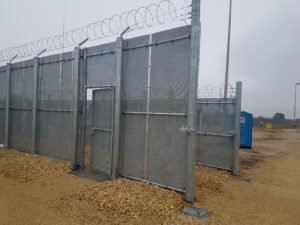 Today, high security is more than just a taller fence.  High security is vehicle restraint systems designed to stop 10,000 pound vehicles traveling at 30 mph plus within 1 meter of the system.  High security is ballistic restrictive screening systems that fragment small arms fire.  It's sensing and alarming intruders who engage the perimeter.
American Fence Company of Iowa provides a fully comprehensive high security fence installation that meets and exceeds these extraordinary requirements at the MidAmerican Energy Cordova Substation.  This included over 4500' of fence and a wide array of crash rated and non-crash rated gate installations and operators.
With an October 10, 2017 completion date, American Fence Company of Iowa staffed the project with over eight crews working six days a week.  The Iowa branch convincingly beat the completion date and saved a great deal of estimated time.  After completing 3 months of work, installing almost $1M dollars of materials and creating a 10' high mile long screen, AFC-Iowa took only twenty minutes to complete their punch list.  Regardless of all this impressive production and efficiency, the branch is most proud of the fact that they did not have a single workplace accident.
In the words of Jeff Husmann, AFC-Iowa Branch Manager, "We really kicked ass on this job. The owner and the general contractor could not say enough good things about our foreman, our ability to man the project and our superintendent."
Congratulations to American Fence Company of Iowa!