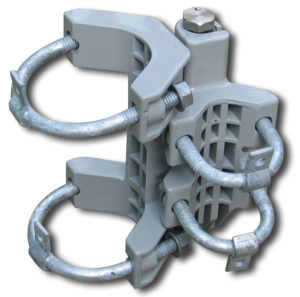 Self-closing hinges are a very important gate feature. If you have any animals or small children you don't want escaping as you're going through your gate, you should consider installing one of these hinges.
Hinges that utilize springs are referred to as self-closing hinges. These hinges are popular with homeowners with children and pets, and with property owners who want more control of their gate's traffic flow. This can also help deter unwanted guests from entering through your gate and provide additional security.
Universal Self-Closing Spring Hinges
The universal self-closing spring hinge can be used on both commercial and residential chain link fences. This hinge is made of aluminum die cast housing, utilizes a stainless-steel spring and hinge pin and uses 4 U-bolts to attach to the gate frame and fence post. You will need two of these hinges per gate, three if you have a commercial gate or a gate 6' or taller.
Universal self-closing spring hinges have more surface area than most self-closing hinges, so you won't have to overtighten it. The ribbed texture of the inside of the hinge helps cling to the pipe, while the U-bolts secure its position. If you would like to make this hinge even more secure, there are tabs located on each U-bolt for you to insert a tek screw to lock the hinges into place on the pipe.
Benefits of a Universal Self-Closing Spring Hinge
Lightweight construction
Stainless steel hinge pin and spring
Corrosion resistant
Little to no maintenance required
Textured for better grip
Functions under lower torque
Check out our wide array of hinges and fencing supplies at America's Fence Store today.