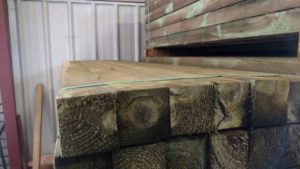 America's Fence Store's green treated posts are made of white pine and are treated with the same ACQ2 treatment as yellow pine. It is designed to have a long service life and to stay in great condition for many years.
White pine costs more than yellow pine but is also less likely to bow or twist. White pine is straighter than yellow pine but does react differently to the pressure treatment and typically develops some light twisting. Over time white pine also tends get some long vertical cracks called "checks." These cracks are okay and will not threaten the integrity of the wood.
Due to the treatment on the wood, green treated posts don't stain well and have a slight green tint to them.
Benefits of Green Treated Posts:
Decay resistant
Protected from insects
Can be completely buried in the ground
Long-lasting
Treatment minimizes effects from weathering
Explore our selection of fence posts and other premium fencing products on America's Fence Store today.