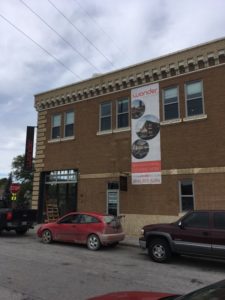 AmeriFence Corporation recently completed a project in the heart of Kansas City, MO. Located at 30th and Troost is home of the former Wonder Bakery. The original bakery, known as Campbell Baking, was built in 1915. Over time the bakery expanded to dominate the entire block. The facility housed a steam plant, coal bins and the capacity to produce 50,000 loaves of bread every day.
As time progressed into the 1970's, businesses moved away from the inner city and into eastern Jackson County: Independence, Lee's Summit and Blue Springs. They also migrated north into Clay County: Gladstone, North Kansas City and Platte City. Some also moved Into Johnson County Kansas: Overland Park, Olathe, Shawnee, Lenexa, Leawood, and Mission. These areas were considered rural before 1960. From 1970 to 2000, Kansas City, Missouri's population shrunk by over 60,000 people.
Today, Kansas City is well on its way to being the major hub of the metro once again. Population has now risen to pre-1970s numbers. Areas such as the Crossroad, Westport, Troost, and downtown are alive and thriving once again. Landmarks such as the bakery, office buildings and banks are being repurposed for apartment complexes, shops and boutiques. Amerifence Corporation is proud to be a part of this rebuilding.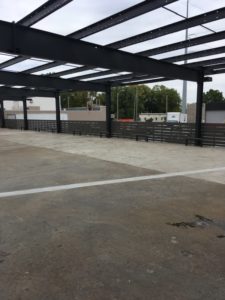 Once completed, the new Wonder Lofts will take over the Wonder Bakery space and will be home to 86 apartments and 35,000 square feet of commercial space. The project will feature large loft apartments, including roughly 800-square-foot one-bedroom units and roughly 1,000-square-foot two-bedroom units. The commercial space will include 15,000 square feet of ground-floor retail and 20,000 square feet of garden-level office and maker space. The ground level includes a circular space that used to be part of a tower at the century-old bakery building, and it "screams for a brewery". The project also is expected to include a business incubator, public fitness club, green rooftop, restaurant and 136 outdoor and indoor and outdoor parking spots.
AmeriFence Corporation designed and built a composite fence system, enclosing the former loading dock area into a large outdoor patio area, composite perimeter parking area fence and sliding cantilever gates with a gate operator and access control system. AmeriFence also provided temporary construction fence and interior chain link fence.
If you like what you see and are interested in any of our fencing services and would like a free quote, please give us a call today at 913-307-0306 or submit and  online request.