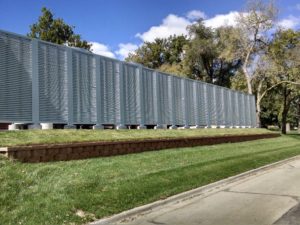 In our PalmSHIELD – Planning Guide For Selecting Mechanical Equipment Screening post from last April, we stated that designers should request the manufacturer calculate the wind loading or calculate it themselves. No matter how you come up with the answer, it is a costly and time consuming process. Designers do not have the means or time to test and appraise manufacturers' proposed designs and products. A manufacturer's reputation is all engineers and architects and engineers can count on to provide a dependable solution.
PalmSHIELD believes that they must get in front of the curve and already provide their customers with the credible engineering analysis they require to assure their screening meets the latest and most stringent IBC and UBC 120 mph wind load requirements. PalmSHIELD is now providing a broad-based engineering analysis that provides multiple panel widths and post sizes readily available to all of their customers.
This analysis takes into consideration their fully framed panels and 64% openness and is based on their 100% coverage horizontal louver design.
Don't guess or fret over your architectural screening anymore. PalmSHIELD is the most popular free-standing architectural screening and they are now fully engineered. They really are the best, and it shows.