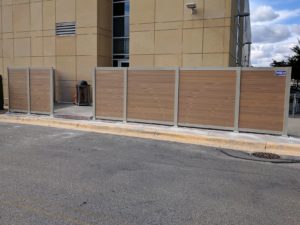 PalmSHIELD has announced that their solid architectural screening is now available in both a composite horizontal slat and a vinyl tongue & groove horizontal slat. These new options are great alternatives to PalmSHIELD's popular aluminum horizontal slat system. PalmSHIELD's solid architectural screening is the ideal solution for designers looking to complement their building's exterior features when screening mechanical equipment, HVAC unites, transformers, dumpsters, pool equipment, etc.
Solid Architectural Screening
PalmSHIELD's solid architectural screening panels are constructed from their signature picture frame design that forms a solid frame around the infill material using structural aluminum. No matter the infill selected, their panels always meet the latest IBC or UBC wind load requirements. Their architectural screen panels come fully assembled and ready to install.
The aluminum solid architectural infill material is media blasted and powder coated. They offer a large selection of colors or can do their best to match your preferred color. You also have the choice to powder coat the aluminum solid infill slats to match the posts and framework, or you can have the infill powder coated a different complementary color. If you have any interest in creating a complementing color scheme, please contact the design team.
The composite wood infill is the industry's leading composite manufacturer, Trex Transcend Composites. PlyGem Industries provides the highest quality vinyl tongue and groove slating for the vinyl architectural infill. Vinyl infill is available in a large variety of colors and even wood grain finishes. All of the available vinyl and composite infills are warrantied against mold, flaking and premature fading. PalmSHIELD's composite and vinyl architectural screening are complemented by powder coated aluminum posts and picture frame systems.
Are you looking for some industrial screening that looks modern, is affordable and still has great structural integrity? PalmSHIELD's architectural solid screening is the perfect solution. PalmSHIELD is the leading standalone architectural solid screen manufacturer.