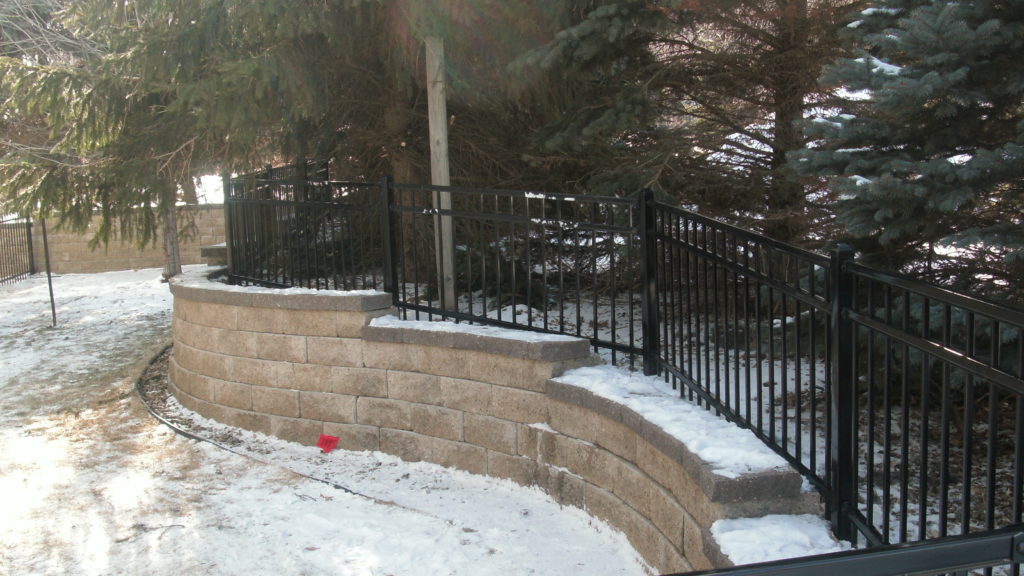 A common assumption among homeowners and businesses is that spring and summer are the best times for fence installation. However, scheduling during these particular seasons can be complicated if you want your fence done in a timely manner. (Everyone thinks about yard enhancement when it's warm out. Likewise, everyone's placing calls to local contractors around the same time, causing projects to back up.) Have you considered winter fence installation? There are, in fact, many advantages to installing fences ahead of spring.
FOR A FREE ESTIMATE:
1. It's Easier to Schedule Fence Installation in Winter
As mentioned above, most residential and commercial customers schedule fence installation, repairs, and maintenance during spring and summer—meaning, contractors become increasingly busy during these two seasons. Packed schedules can potentially lead to a several-month delay before construction on your fence begins. Especially if the contractor in question needs to order materials. Generally speaking, fence companies receive fewer calls—and have more flexible schedules—during winter. When you place a call to a fence company in winter, there's a good chance the project will be finished within a few months.
On the subject of fence materials: American Fence Company operates ten branches nationwide, each maintaining an inventory of vinyl, wood, chain link, and ornamental iron. Whereas other contractors are dependent on their suppliers' delivery systems, our branch-based network allows us to keep projects on track. If one branch needs extra materials for a project, they simply import from a sister branch.
2. Reduced Yard Damage
Yard/property damage rank high on homeowners and businesses' concerns regarding fence construction. After all, construction requires equipment for drilling holes, pouring cement, etc. (Not to mention personnel constantly walking about your yard.) What's more, you are unable to use your yard—at least fully—when fence projects are underway: sprinklers can't be run; children and pets can't play on the grass; it's even difficult to sit on your porch and enjoy the view when there's so much activity.
This is another reason to consider winter fence installation. When the temperature's down, plants—including grass—enter a dormant state, and the ground becomes hard. (You don't have to worry about gardens, shrubbery, or turf becoming damaged during construction. By the time foliage starts growing again, the fence will be finished.) Also: because the ground is hard—if not completely frozen—during winter, there's less risk of damage caused by equipment. (Trucks can drive onto your yard without leaving unsightly tire tracks.)
FOR A FREE ESTIMATE:
3. Winter Fence Installation Creates Privacy
The top reasons for installing a fence are: securing your property, and creating privacy. Some homeowners solve the privacy issue by growing tall shrubs along the perimeter of their yard. However, this is only viable during spring and summer; as mentioned before, plants enter dormancy when the weather cools, meaning your yard will be fully exposed come winter. (Not to mention: shrubs have to start growing all over again in spring. A month or two might pass before they're tall enough to re-conceal your yard.)
Installing a fence provides security and privacy all year round. Winter fence installation integrates both privacy and security ahead of the season where you'll need it most!
4. Your Fence Is Ready By Spring
The best part about installing a fence in winter is that everything's finished in time for spring—when the weather's warm and you're ready for yard activities! Your neighbors will be scrambling to schedule fence installation (during the peak season) and will later be stuck indoors as construction personnel work in their yard—meanwhile, you'll be tending to your garden, supervising your pets and kids, hosting barbecues, and sitting on your deck, enjoying the nice days ahead. All with the comfort of being protected and concealed by a sturdy, beautiful new fence.
---
Contact us today for a free estimate