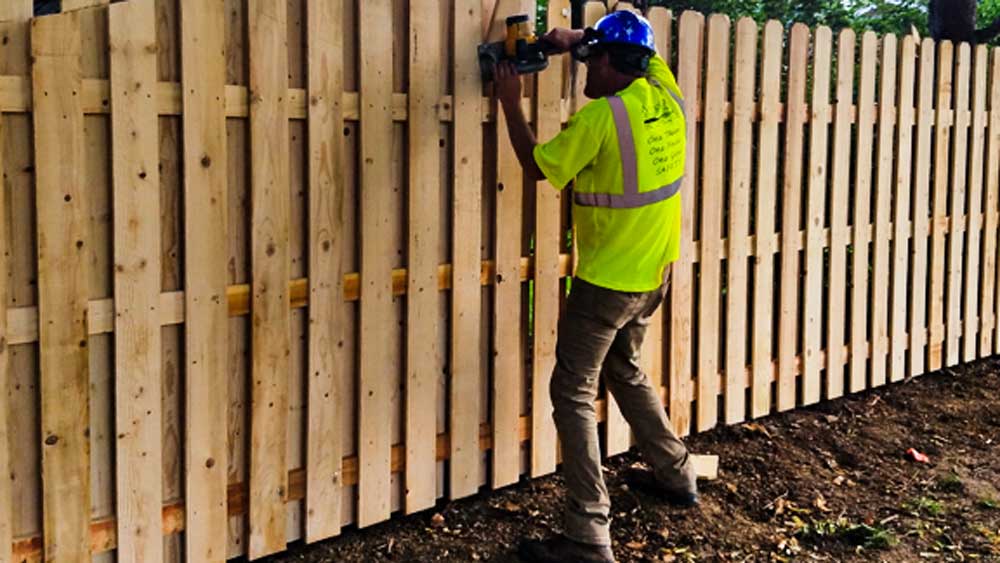 So you've spent a fair amount of time looking over your home/commercial property and have now decided to install a fence. Perhaps it's to lend a sense of security or privacy. Perhaps it's to enhance your curb appeal. Or maybe you simply want a barrier along your yard's perimeter to keep kids and pets from wandering off. Whatever the case—and whether you want a vinyl, wood, chain link, ornamental, or even high-security fence—the first step is selecting a local contractor. If you Google "fence companies near me," you'll likely get a few dozen results. How do you pick the right one? Which one(s) are worthy of your business?
FOR A FREE ESTIMATE:
As the #1 contractor in the Midwest—with twelve branches scattered across the nation and delivering materials to each of the continental states—American Fence Company believes customers should know what to look for in local contractors. For this reason, we've provided a list of six easy steps to identify the 10 best fence companies in your area.
1. Google Fence Companies in Your City
Don't simply look up "fence companies near me." Make your Google search more specific by entering: "fence companies in" followed by the name of your city. If you live in a small town or a suburb, enter the name of the city closest to you. This preliminary search will produce a few pages of results. Focus on the ten occupying the first page.
FOR A FREE ESTIMATE:
2. Check for Selling Points in the "About Us" Section
Each company's website should have an "About Us" page (any fence contractor that doesn't bother telling you about themselves isn't even worth considering). Ask the following when looking over their selling points:
How long has the company been in business? Fence companies with ten or more years' experience have likely undertaken a diverse range of projects. American Fence Company, for instance, has been around 55+ years and handled thousands of design/fabrication/installation jobs regarding fences, gates, architectural screening, automated gates, and specialty products such as gazebos. We've tackled projects of all kinds, in all sorts of circumstances, encountered and overcome roadblocks, and have a strong understanding of how to get the job done.
Does the company educate their staff? The best fence companies do not simply recruit employees; they host internal training programs so their staff becomes knowledgeable and proficient in the trade. Here at American Fence Company, our installers undergo extensive training in building fences and gates. We also require them to attend classes that teach finer details such as welding and installing fasteners. All of this preps them for installing products of the highest caliber.
Do they handle follow-up jobs regarding repair and maintenance? While a fence is meant to be a long-lasting/permanent addition to your home/commercial property, over time occasional maintenance or repairs may be necessary. American Fence Company is a one-stop shop for fencing services, including repair and maintenance.
FOR A FREE ESTIMATE:
3. What is Each Fence Company's Safety Protocol?
In any situation involving construction personnel and equipment, accidents are possible. However, a good contractor takes necessary precautions to reduce the likelihood/number of accidents, namely by developing and enforcing safety protocol. American Fence Company's in-house safety training programs teach employees about fire prevention, respiratory protection, hazards, and safety regarding both job site and motor vehicle operation.
Our commitment to safety has earned us an Experience Modification Rate of 0.73—significantly better than the industry average of 1.1.
4. Look Up Customer Reviews
From that initial list of 10 results, pick out the contractors you like best. Google each one individually and study their online reviews. You can also look for reviews from past employees describing the work environment and culture. Companies that treat their employees well tend to be more productive.
Now, you'll probably encounter a handful of mixed/negative reviews. Study these to see how/if the fence company amended mistakes on the job. (It happens to the best of us.) See if the company had a representative reply to the negative reviews on Google.
Companies with few/no reviews likely haven't been around very long or handled many jobs.
5. Check Out Your Local Fence Companies' Facilities
If you have one or even a few fence companies you'd consider giving your business to, we recommend driving out to their facilities. How a fence company presents themselves at their own headquarters in terms of cleanliness, organization, etc. says a lot about their professionalism. Is there someone to greet you at the front desk? Does the equipment appear clean and up to date? Do they have a sizable amount of materials in stock?
6. Place the First Phone Call
Now that you have a particular contractor in mind, it's time to set up an appointment to have someone review your property and give you an estimate. If you didn't make an appointment while visiting their facility, all it takes to get started is a phone call. If no one is available to take your call, leave a message; any respectable company will call you back in a timely manner.
One last piece of advice: NEVER give your business to a company that offers an estimate without looking over your property first.
American Fence Company is the leading fence contractor in the Midwest, serving homeowners & businesses as well as selling high-quality fence materials to contractors and DIY fence builders. Contact us today for a FREE ESTIMATE on your latest fence project.