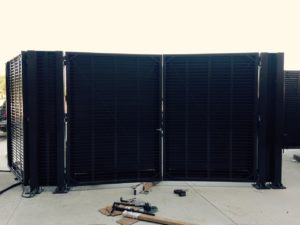 Did you know that PalmSHIELD mechanical equipment screening can be designed with code compliant fire exit doors and hardware? PalmSHIELD offers a wide range of leading life safety and security door hardware. From heavy duty exit devices to economical exit devices, exit alarms, external keying, access control devices and low energy automatic operators.
PalmSHIELD products are highly durable, easy to install, technologically superior and architecturally beautiful. Products have served to secure buildings and the people they house across many industries and businesses, including retail, restaurants, schools, hospitals, manufacturing, warehouses and office buildings. PalmSHIELD provides solutions required to protect lives and property.
PalmSHIELD will provide:
A fully functioning exterior door system.
An outdoor rated panic door device.
An external keyed option.
An external electric push button option.
Lockable center door mullion.
Low energy automatic openers
Multi point locks
Exit alarms
Integrated intercoms
PalmSHIELD uses Detex life safety and security door hardware. Visit Palmshield today for your free quote.