Capabilities
The American Fence Company is not only a fencing contractor, we are one of our nation's top security contractors. While we are based primarily in the Midwest, our portfolio of security contract work and well-established contractor network extends well beyond the central United States to cover installations and services from coast-to-coast for everything from security installations and access control systems to vehicle crash barriers and engineered custom metals.  Whether you are looking for access control and security for a nuclear power plant, data center, military base, airport or other project, you can trust the professional and experienced team at The American Fence Company to get your security job done right.
We offer free estimates, contact us today to request yours.
WHY THE AMERICAN FENCE COMPANY IS THE NATION'S MOST TRUSTED SECURITY CONTRACTOR

The proof is in our work. We are trusted by many of our Nation's nuclear power plants, data centers, transportation centers, military bases and top contractors.
We offer one-stop security contract services, design and installation for security arms and gates, access control systems, security fences, vehicle crash barriers, speed gates, and much more.
We have our own access control company, American Access Company, that focuses exclusively on gate access system design, installation and service.
We operate 10 branches and multiple divisions in eight different states and employ over 350 employees with over 40 installation crews throughout the US.
Our 50,000 square foot custom metals facility houses a team of highly experienced engineers, drafters, and certified welders to craft any custom metal work you desire.
Our industry-leading safety program consists of a multi-pronged approach which has led to a .71 MOD rate.
PalmSHIELD: Custom louvers and screens for any security need.
America's Gate Company:  Custom and prefabricated gates for any barrier need.
American Access Company: The only stand-alone gate operator and access control installer/servicer in the Midwest.
Our Online Store: Buy individual parts and supplies for fences, gates and more online.
American Playground Company: The Midwest's premier playground and recreational contractor that can accommodate every aspect of your project, both big and small
American Fence Rental: The most competitive temporary fence and barricade provider in the Midwest
Download a PDF
CAPABILITIES STATEMENT
A PORTFOLIO OF OUR SECURITY INSTALLATIONS
We have provided the systems that protect some of our Nation's most critical infrastructure. Some of our more significant installations are listed below. View our security installation galleries:  high security installations,  k-rated barriers.
DATA CENTERS:
Facebook Data Center, Papillion, Nebraska
Facebook Data Center, Altoona, Iowa
Microsoft Data Center, Ames, Iowa
Project Vortex, Olathe, Kansas
ADP Data Center, Sioux Falls, South Dakota
EMC Data Center, Ames, Iowa
Team Companies Data Center, Waukee, Iowa
Google Data Center, Council Bluffs, Iowa
American Family Data Center, Wisconsin
Travelers Insurance Data Center, Papillion, Nebraska
Paypal Data Center, Omaha, Nebraska
Yahoo Data Center, Omaha, Nebraska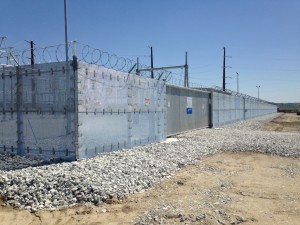 HIGH SECURITY ENERGY INSTALLATION:
Fort Calhoun Nuclear Power Station, Fort Calhoun, Nebraska
Cooper Nuclear Power Station, Brownville, Nebraska
MidAmerican Energy, Multiple High Security Sites
Northern Natural Gas, Multiple Sites
US Army Corps of Engineers Big Bend Dam, Ft. Thompson
---
MAJOR TRANSPORTATION HUB:
Kansas City International Airport, Kansas City, Kansas
Eppley Airfield, Omaha, Nebraska
CBW Downtown Airport (MKC) Kansas City, Missouri
Des Moines Airport, Des Moines, Iowa
Amtrak Station, Creston, Iowa
---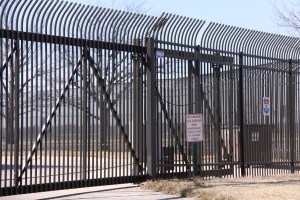 NATIONAL DEFENSE:
Strategic Air Command, Bellevue, Nebraska
Ellsworth Air Force Base, Ellsworth, South Dakota
FBI Headquarters, Omaha, Nebraska
---
OUR NATIONWIDE NETWORK OF CONTRACTORS AND CUSTOMERS
The American Fence Company's reputation for quality and security has made us the trusted resource general contractors turn to for high profile security projects nationwide. Our contractor network that we've worked with includes:
• Turner Construction • JE Dunn • DPR Construction • Holder Construction • Fortis Construction • Whiting-Turner Contracting • Structure Tone • HITT Contracting • Hensel Phelps • Mortenson Construction • Titan Built • Kiewit • MCL
• Pitney Bowes • Lueder Construction • Darland • Lund Ross • Weitz • White Lotus Group • Hausmann Construction • George Allen Construction • McCown Gordon Construction • Crossland Construction • Foley Company • McCarthy Building Companies, Inc. • Wanzek • Cheever Construction • Knutson Construction
ADDITIONAL AMERICAN FENCE COMPANY SECURITY WEBSITES: