Keep Your Kids Safe with Child-proof Pool Latches
Above having fun and cooling off, safety is the most important factor when it comes to swimming pools. Children adore swimming, but unfortunately the second leading cause of death for kids under age 5 is drowning.
Most child drownings occur in a family's, friend's or relative's pool. These pools are much more accessible and much less supervised, making drownings all too common. One of the most effective ways to prevent these drownings is with a fence around the pool with a secure, childproof latch.
BOCA Pool Latch Requirements
According to the National Building Officials and Code Administrators Standards and Regulations (otherwise known as BOCA), all pool fence latches must be at least 54 inches from the ground, well out of the reach of curious children. These latches should also be self-locking and pool gates should have self-closing hinges that open away from the pool.
The fence itself should not be easily climbable. All vertical pieces should be no more than 1.75 inches apart and any horizontal members should be on the pool side of the fence. Chain link pool fences should not have weave that exceed 1.25 inches.
Check your area's pool fence code for any variations.
Top Pull Rod Latches
Top pull rods are the safest and most child-proof pool gate latch. The top pull rod's design consists of a latch that is placed near the top of the gate frame and door and a pull rod arm that extends usually at least a foot above the top of the gate. In order to unlock it, one would have to pull up on the knob on the pull rod, relieving the latch.
Latch Features
Some features a childproof pool latch may include:
Easy installation
Key locking feature
Magnetic closure
Red light to indicate if not latched
Compatibility with many fencing materials
Sound alarm and flashing lights
Who needs a child-proof pool latch?
Since most child drownings happen at residential or unsupervised pools, those are the pools we most highly recommend customers install these pool latches. Other locations that could benefit from a pool fence with a childproof latch are places such as hot tubs, daycares, spas and schools.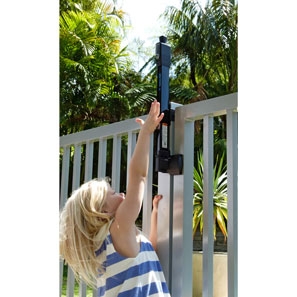 Explore your gate latch options at America's Fence Store today.