PalmSHIELD: Playground Screening Panels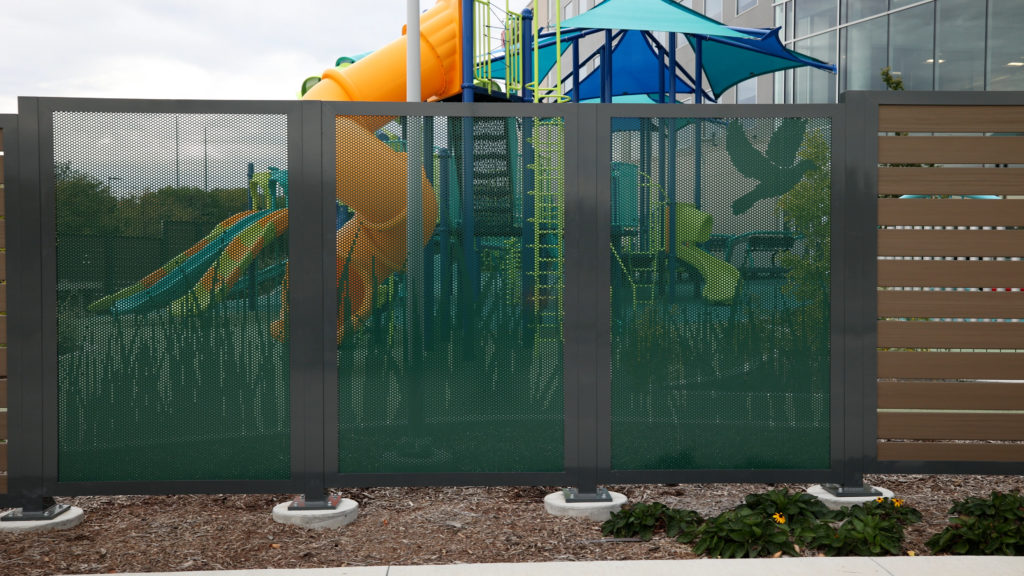 When it comes to inclusive recreation areas where parents and children of all backgrounds can socialize and forge lasting memories, there is no better alternative than the neighborhood playground. Whether your kids need a full afternoon's entertainment or just a few hours to unwind after a day at school, the fun zones installed by American Playground Company—with their expertly designed structures and top-notch surfacing—provide communities with years of play. And thanks to our industry-leading screening division, PalmSHIELD, you can now enclose your playground with imagery that leaves visual memories while closing off view of the outside world.
American Playground Company offers PalmSHIELD specialized screening that compliments your playground and provides a safe place for your kids to interact. We offer the only playground screening compliant with CPSI standards, not to mention an opportunity to promote your site and salute vendors with our artistic and symbol cut panels.
Why elect for PalmSHIELD playground screening? Why not just install a typical fence?
There's nothing wrong with installing a traditional fence around your playground—provided that it's professionally designed and fabricated. However, there are several benefits unique to PalmSHIELD's playground screening:
Meets and exceeds CPSI standards. Any equipment that meets CPSI (Certified Playground Safety Inspector) standards allows children to play with reduced likelihood of injury. Accidents still happen, of course, but they're less likely when CPSI-approved installations are involved.
Removes any sharp surfaces and unsafe materials. Unlike chain link mesh, for instance, our playground screening is smooth and safe to the touch. Materials such as vinyl and composite soften backgrounds.
Attractive patterns. PalmSHIELD's state of the art fabrication equipment and expertise allows us to design panels with intricate designs: the perfect complement for the neighborhood kids as they play. You can also get panels that achieve a significant degree of privacy.
Compliments building exteriors. Unique design and high-quality fabrication mean we can craft playground screening panels that match your building exterior.
Meets community appearance standards. Our panels will match the standards needed by your community.
Top-notch security. One of the selling points for playground fences is, of course, security. However, these screening panels are strong and reliable on this front, as well. Unauthorized entry is not easy, even with tools.
CONTACT PALMSHIELD TODAY FOR A FREE ESTIMATE ON PLAYGROUND SCREENING!