Will Installing a Fence Increase My Home Value?
A great deal of thought and effort goes into selling your home: maintenance, cleaning up the yard, deciding whether to hire an agent or represent yourself, etc. Given how much appearances matter—sometimes more than cost!—add curb appeal to the priorities list. After all, photographs and exteriors catch attention easiest for buyers as they flip through listings or drive down the street. This is something to consider even for homeowners not planning to sell for years. The real estate technology company HomeLight reports, "well-landscaped homes are worth anywhere from 1% to 10% more than homes with no landscaping." How much does this translate to, profit-wise? For a high-quality fence, about $1500-5000, according to Rehab Financial.
How can a fence increase my property value?
Like we said, appearances matter. Obviously a home with an attractive, well-made fence is more likely to grab buyers' attention than one without. Not to mention, buyers who want a fence tend to favor properties with a one already installed—as this negates the trouble of installing the fence themselves. Clients favoring pre-existing fences include families with children and pets. Even the moving process keeps parents occupied, resulting in little time for watching toddlers and our four-legged friends. A fence enclosing the yard helps reduce these concerns even on Day One.
In other cases, buyers are looking for a house that immediately offers privacy. After all, installing a fence takes time: the buyer needs to locate a trustworthy fence contractor in the area; the contractor needs to find space in their schedule (which tends to be chaotic, especially during spring and summer—a reputable fence company serves commercial clients as well as residential ones); from here, the contractor performs utility locates, makes arrangements regarding matters such as sprinkler insurance, etc. All of this before the installation process even begins! In short: getting a fence is not an overnight deal; someone moving into the neighborhood who wants a fence for privacy reasons will be looking for a home that can accommodate their needs right away.
What kind of fence improves the odds of a successful sale?
Although chain link is among the cheapest, most common fence types worldwide, the interlocking mesh is actually not so valuable for selling a home. (Since the cost is lower, the return on investment is lower.) Not to mention: the diamond-shaped gaps in the mesh allow for easy climbing by both humans and animals alike. By contrast, Realty Times claims that resale of solid fencing—the kind fashioned from cast iron, for example—can potentially net 50% of the original installation cost. Generally speaking, solid privacy fashioned from wood and vinyl fencing also achieve decent R.O.I. Vinyl, in fact, tends to dominate the residential market these days due to its low maintenance needs and natural beauty. (As we detailed in a recent post, wood fencing requires more upkeep—not to mention staining to prevent winter-related damages.)
Another factor determining the ideal fence is home exteriors. After all, wood fencing tends to clash aesthetically against the appearance of a modern house. Likewise, you'll probably alienate buyers with a Victorian house surrounded by modern privacy-style fencing. Even if the buyer likes the house, most of them aren't willing to spend extra capital on a fence they'll just tear down and replace. Like we said, appearances matter!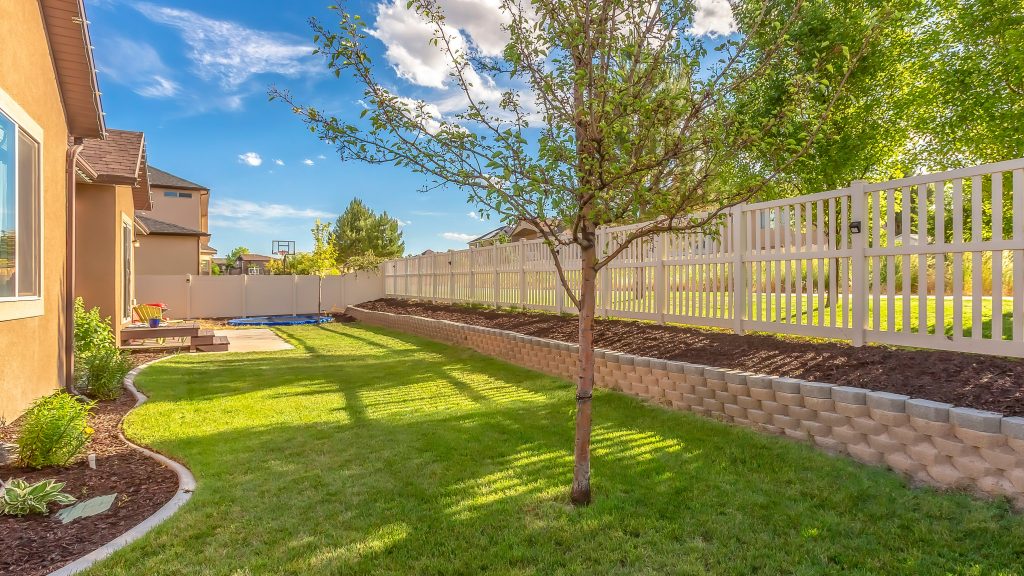 I'm planning to sell my house. What should I do about fence repair and maintenance?
If the home you're selling has a fence, arrange repairs and maintenance for it at the same time you're attending to the house itself. (Don't assume people are looking for a fixer-upper!) You'll want to ensure the best possible repairs—and thus need to hire out a professional fence contractor that includes maintenance among its services. For these needs, look no further than American Fence Company! As part of their mandatory training, our installers have been taught the fundamentals of fence repair and maintenance. This includes vinyl, wood, chain link, and ornamental steel—not to mention gate repairs for each type. What's more, the team's qualified to work even on fences we didn't install ourselves.
Virginia Tech Survey reports "that relatively large landscape expenditures significantly increase perceived home value and will result in a higher selling price than homes with a minimal landscape." Regardless of whether you're ready to sell, planning to sell, or have already bought a home and want to install a fence, the team at American Fence Company is ready to serve! Contact our representatives today, and we'll dedicate talent, equipment, and resources to deliver a fence that'll boost your curb appeal and truly distinguish your home. We operate thirteen branches throughout the Midwest and ship materials nationwide!
Contact an American Fence Company representative today!