PalmSHIELD's Translucent Laser Cut Screening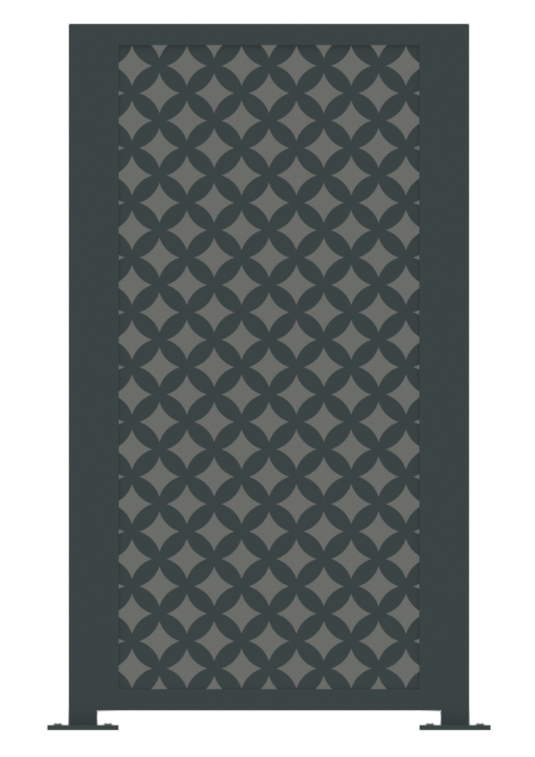 As the industry leader for architectural and mechanical equipment screening, PalmSHIELD is continually developing customizable products that combine functionality with aesthetics. Architects and engineers nationwide depend on us to manufacture and install high-quality enclosures for the purpose of protecting equipment/fixtures such as dumpsters, HVACs, generators, and propane tanks. In addition to being functional, our screening is designed with aesthetics in mind—put together in a way to blend into surrounding building exteriors. Although primarily sourced for commercial applications, they can also be installed around residential fixtures such as hot tubs, courtyards, and patios.
Over the years, PalmSHIELD has developed a variety of decorative screening options, one of the latest being translucent laser cut panels.
FOR A FREE ESTIMATE:
What is laser cut screening and what makes it special?
The team at PalmSHIELD recognizes that design factors into a customer's decision when purchasing architectural screens. Everything from color to patterning goes a long way in determining what constitutes the unique, one-of-a-kind product befitting their needs. For that reason, we employ in-house design and manufacturing teams, who in turn are supplied with state-of-the-art laser cut technology allowing them to incorporate custom patterns into their projects. Customers have the option of submitting original designs for panels featuring logos, symbols, and mascots—or ones that simply match the color and look of designated building exteriors. If drawings are not available, simply consult our expert designers. In either situation, our team will collaborate with you to ensure the products we manufacture are the ones you're envisioning.
What's unique about translucent laser cut screening?
Translucent laser cut screening uses sheets of colored or non-colored acrylic that are in turn placed between mirrored laser cut sheets or in front of a single laser cut sheet. The structure allows light to illuminate the custom pattern for an extra distinctive appearance; you can also place the panels against solid surfaces and backlight them to yield an attractive glow. In order to satisfy the needs of each customer, PalmSHIELD uses only the highest quality acrylic sheets and makes them available in various colors and densities. In addition, our translucent laser cut screens have been powder-coated—for even greater contrast between the panels chassis and the glowing acrylic sheets supported within.
In what situations would translucent laser cut screening be useful?
In addition to dumpster and HVAC enclosures, our panels can be used to block out generators, transformers, propane tanks, rooftop equipment, etc. from public view—without impeding performance or functionality. However, this is more common with mechanical equipment screens. Customers who contact PalmSHIELD requesting artistic laser cut screening typically select these panels for their elegance and customization—the ability to match pre-existent imagery and aesthetics. For example: high schools and community buildings whose exteriors feature mascots and symbols. In this situation, clients want screens harmonious with surrounding design and color.
These customizable panels can also be installed around gardens, pools, pool equipment, hot tubs, patios, walkways, courtyards, etc. In the case of these scenic areas, you don't want to settle for structures that are painted metallic, unappealing gray; you want something elegant, something that contributes to the inviting appearance of the surroundings. This is another customization element that makes PalmSHIELD the nation's #1 source for laser cut architectural screening. Whatever the situation demands in terms of design, we can match it!